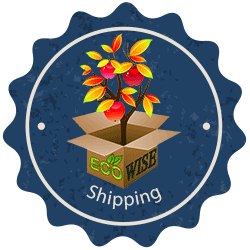 Do we ship bare-root or potted plants?
• We ship our plants, Eco-WISE.
What is Eco-WISE shipping?
• Your plants are grown in one of two ways prior to shipping, field grown or potted. When we ship your plants we carefully remove excess dirt from the roots to help reduce the overall weight of the shipment. We use custom-engineered boxes to protect your plants from our nursery to your front door without the need of any additional packaging material. We ship thousands of orders annually and by us doing these two steps, it allows for us to lower our usage of petroleum-based packing materials and help cut the emissions of our shippers by dramatically reducing unneeded weight.

• Your plant's roots will never be bare when you receive them. We gingerly bundle the plants together with a special polymer root hydrating dip, containing micro-elements, to help keep your plants hydrated and healthy through the shipping process.
Is this healthy for my plants?
• We would never do anything that is was not in the best interest of your plants and the earth in which they are growing in. Remember, before they were your plants they were our plants and we take that responsibility seriously.
Why do you ship Eco-WISE?
• We ship our plants in the most efficient manner possible. We are aware of our impact on our environment and try our best to cut not only our carbon footprint but the carbon footprint of our shipping companies as well.