Summer Shipping
Why Ty Ty Nursery suspends plant and tree shipments during summer, (June through September) except for motor freight shipments.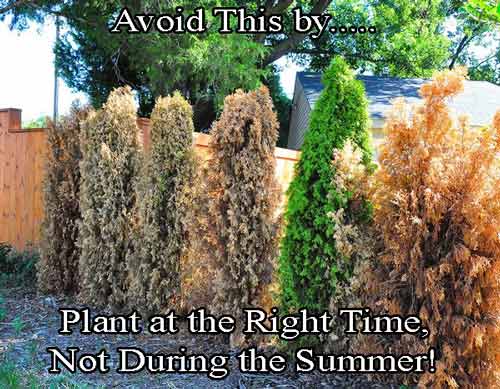 1. Container trees & plants shipped in boxes are stressed and desiccated, because of the 'greenhouse-effect,' box-heat buildup within the cardboard container that leads to weakened plants. The interior box temperatures sometimes reach 135 degrees F. This basically cooks the trees, and the UPS metal trucks will further cascade the steamy temperatures during July and August.

2. When plants are enclosed within a box for several days, the light blackout interrupts the tree "PHOTOPERIOD", and the leaf slowdown of transpiration can interrupt growth, or in the worst case can put the plant into a lethal dormancy resulting in tree death.

3. Plants and trees should not be transplanted during June through September, because the daily watering requirements are often not done by most customers, leading to a poor plant and tree performance that usually causes customer dissatisfaction.

Do not throw away your hard-earned money on a tree nursery that encourages a gardener or a plant enthusiast to plant trees during the wrong time of the year, or unload their leftover plants from their normal shipping season - with their financial motive of making a few extra bucks. Ty Ty Nursery knows the best time and season to plant your new landscape trees or orchard additions for the best survival techniques that will lead to an uninterrupted period of long-term growth. Some tree nurseries will try to convince their customers to buy and plant their trees during the summer. Those nurseries promise that they can ship trees to you right now since their trees are shipped in a protective container. The amount of stress placed upon the trees, when planted during the summer, is four times higher than when planting during the proper season, and in most cases out-of-season planting will lead to a shortened life span of the tree. We want Ty Ty Nursery customers to be satisfied for many years in the future by planting their beautiful addition of trees at the proper season, so we suspend our UPS shipping during the hottest months of the year (June through September). All orders will be delayed until October as noted on the availability section of the product pages. Orders will be charged at the time of order to reserve the stock for you. A customer can cancel any order that has not been dug and processed for shipping or that is not shipped with ten business of ordering and upon request will receive a full refund of the purchase price. If an item is noted for (Freight Shipping), we can more efficiently deliver trees by motor freight, however, it is more expensive and any additional cost must be covered by the customer. If you have any questions please call us toll-free at 888-758-2252.